Visiting Scholars
Jon McKenzie – Centre for the Humanities SPRING Festival Fellow (May 2018)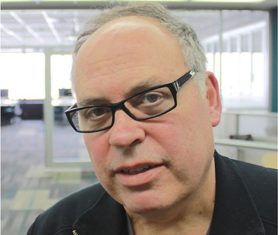 During his stay, McKenzie participated in several activities (co-)organized by Transmission in Motion. He was part of the City Symposium, and of a masterclass within the context of the SPRING Festival. He also gave a performance-lecture for the TiM Seminar with Aneta Stojnic. You can see the video of the performance-lecture here.
For more information about his visit click here.
Jon McKenzie is Dean's Fellow for Media and Design and Visiting Professor of English at Cornell University. He is the author of Perform or Else: From Discipline to Performance and such essays as "Laurie Anderson for Dummies," "Democracy's Performance," and "Global Feeling: (Almost) All You Need Is Love." His work has been translated into a half-dozen languages. McKenzie's StudioLab pedagogy combines seminar, studio, and lab activities to bring scholarship to communities and policy-makers. He also creates experimental videos and gives workshops on performative scholarship and transmedia knowledge. In 2013, HOBO Art Foundation and the New Theatre of Warsaw co-produced Disastronauts, an experimental theatre work with dance and Theremins based on Perform or Else and his video The Revelations of Dr. Kx4l3ndj3r.
---


---