Events
15 February 2023
14:30 - 17:00
Van Abbemuseum, Eindhoven (Stratumsedijk 2, 5611ND)
"Notes on the Political Imaginary and Exhibitions" – Nick Aikens and Ohad Ben Shimon
**This seminar takes place at Van Abbemuseum, Eindhoven, from 14:30 to 17:00. Access to the exhibition 'Rewinding Internationalism. Scenes for the 1990s Today' is included in the seminar.
The notion of the imaginary has circulated within the humanities since Cornelius Castioiardis' 'Imaginary Institution of Society' first published in 1975. It has appeared in the work of Edward Said, Benedict Anderson and more recently Partha Chatrjee and has been used to elucidate theories on Orientalism, nationalism and post-colonialism. It is perhaps best understood as a loose scaffolding of concepts, rather than a robust, fully formed proposition that proposes how ideas are formed through a collective 'imaginary' within society or specific groups and communities. Though 'imagined', these ideas have very concrete, tangible affects in the world as, for example, the history of nationalism attests.
In this talk curator and researcher Nick Aikens introduces the notion of the political imaginary in relation to the form and affordances of exhibition making, specifically those – like his own – that draw on research practices. The talk proposes that exhibition making – approached as an assembly of narratives, ideas and people through spatial, formal practice and themselves often contingent and associative rather than concrete – offers a means to access an understanding of the political imaginary. Through exhibition making an 'imagined' space emerges through the coming together of references, associations and bodily or sensorial encounter. For this seminar, this proposition is done through the context of the exhibition 'Rewinding Internationalism. Scenes for the 1990s today', currently on view at the Van Abbemuseum.
The session is divided into to two parts. An introduction and viewing of the exhibition 'Rewinding Internationalism. Scenes for the 1990s Today' with Nick Aikens, followed by a talk and Q and A.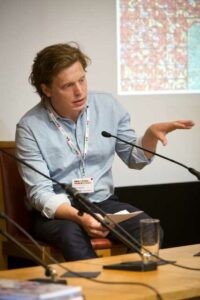 Nick Aikens is research curator at the Van Abbemuseum (since 2012) and a PhD candidate at Hdk-Valand, University of Gothenburg (since 2018). He was recently a researcher at the university Côte D'Azur, Nice as part of the programme of advanced research (2020-21). He is a member of the editorial board for L'Internationale Online (since 2013). He is the curator of Rewinding Internationalism: Scenes for the 1990s, today', on show at the Vam Abbemuseum until 30th April.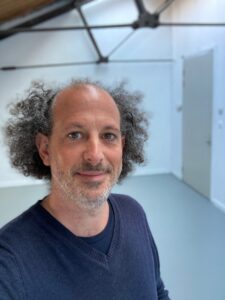 Ohad Ben Shimon (1978) is an artist, researcher and educator with a background in cognitive sciences, psychology, cultural analysis, international business education and art. He is currently PhD candidate at the Research Institute for Cultural Inquiry (ICON) of the Faculty of Humanities at Utrecht University, Senior Lecturer of Critical Thinking/ Researcher of Change Management at The Hague University of Applied Sciences and Guest Resident at The Rijksakademie van Beeldende Kunsten. His current PhD research focuses on the role of embodiment in knowledge-based organizations and is funded by the Dutch Research Council (NWO) Doctoral Grant for Educators.
Suggested readings (distributed upon registration):
Project outline of 'Rewinding Internationalism'

Gheorghe, Cătălin, and Mick Wilson. 2021. 'Exhibitionary Acts of Political Imagination. Introduction." In VECTOR: 7-10.
**Registration is already possible via tim@uu.nl or online registration.
**This seminar is part of the Transmission in Motion seminar (2022-2023): "Imaginary-Imagination".