Events
13 March 2023
15:00 - 16:30
Janskerkhof 15A, Room 0.01
Meet the Makers: Trine Friis Sørensen
Trine Friis Sørensen was a curator before she became an academic researcher, so the decision to work practice-based, first in her PhD project and later as a postdoc fellow, was an easy one. In this session, she will introduce how she conducts research with and through curatorial projects with particular focus on the large-scale curtain installation Host (2019) by artist Céline Condorelli; a project that Sørensen commissioned for Kunsthal Aarhus, a contemporary, mid-size and non-collecting art institution in Denmark. Host was the host of an extended film programme on climate change and migration organized by Condorelli, and exhibitions and events organized by Kunsthal Aarhus. We will discuss Host and guests, the commission as a curatorial method, what curating and academic research have in common (concepts for one), and what research impact might look like in an exhibition space.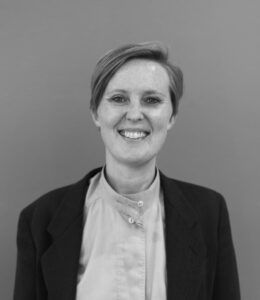 Trine Friis Sørensen is a New Carlsberg Foundation postdoc fellow at Kunsthal Aarhus and Department of Art History, Aesthetics & Culture and Museology, Aarhus University (DK), focusing on institutional structures and curatorial methods as art institutions become increasingly multi- and interdisciplinary. In March and April 2023, she is a guest researcher at Institute for Cultural Inquiry, Utrecht University. Her PhD from University of Copenhagen investigated the curatorial act of commissioning and two contemporary artists' interventions into the Danish Radio Archive. Recent curatorial projects include The Timeshare Project (2017) and Host (2019-20) by Céline Condorelli at Kunsthal Aarhus, where she also organized the talk series How We Curate (2018-19). She has published on commissioning, education and archives including works by Kajsa Dahlberg and Olof Olsson. Since 2018, she has been the programme coordinator of MA in Curating at Aarhus University in the context of which she also teaches and supervises.
Registration is possible via tim@uu.nl or online registration.
This session is a part of Meet the Makers, which aims to facilitate meetings and conversations between academic researchers and students, and makers – such as artists, curators, dramaturges, designers, or other creative practitioners and professionals within the wider field of arts and culture.