Events
18 January 2021
17:00 - 18:30
Microsoft Teams
Meet the Makers: The "curators special" with Paulien Dresscher, Bogomir Doringer, and Angelique Spaninks
In this Meet the Makers session we met with two curators who both work with interactive curatorial formats: Paulien Dresscher and Angelique Spaninks. The session was moderated by Rick Dolphijn and Liesbeth Groot Nibbelink, with additional input from Eleonora Stacchiotti, a student in the RMA MAPS Ecologies of Curation course.
Paulien Dresscher is a researcher and curator who works with The Netherlands Film Festival, Into the Great Wide Open, Noorderlicht Festival, PublicSpaces and Utrecht University. In this MtM session, she told us about the connections between curating the conference 'Life as we Know It' for the Netherlands Film Festival and curating the Noorderlicht Photo Festival.
For Dresscher, the title of the conference 'Life as we Know It' perfectly captures the zeitgeist of this era: life is ever-changing, slipping through our fingers and fragile. It has a sadness to it that we are unable to control life. And this is mostly due to the influential role that media play in shaping our reality. The introduction of deepfakes changes how we understand media: are they showing us reality or something artificial?
Dresscher has extended these matters to the Noorderlicht Festival, with its theme 'The Makeable Mind'. How do media influence our thinking and what are the consequences for how we experience reality? Dresscher underlines the very real consequences that alternative (media) realities have on the world. They could be brushed aside as 'fake news' but that would deny their real-world consequences.
Angelique Spaninks is the director and artistic manager of the MU Hybrid Art House, member of the board of We Are Public and chair of the Design Research Committee at Dutch Design Awards. Before working as a curator, Spaninks was a journalist. She connects the way of working as a curator to her previous experience in journalism. As a curator, she is weaving together a story about different artworks that are presented at the yearly Bio Art & Design exhibition at MU. As a journalist, she would cover current events that moved her to create a coherent story out of actualities.
One important difference between working these two jobs is the way of doing research, Spaninks explains. In journalism, Spaninks felt more limited in exploring a topic than as a curator. There are specific factors that influence the outcome of the research in journalism; is the topic news-worthy? When should it be published? Curating an exhibition provides more freedom, as Spaninks considers the exhibition itself to be only a step within the research process, not simply the endpoint. It could even be the start of something completely new, such as a book, a podcast, or a film!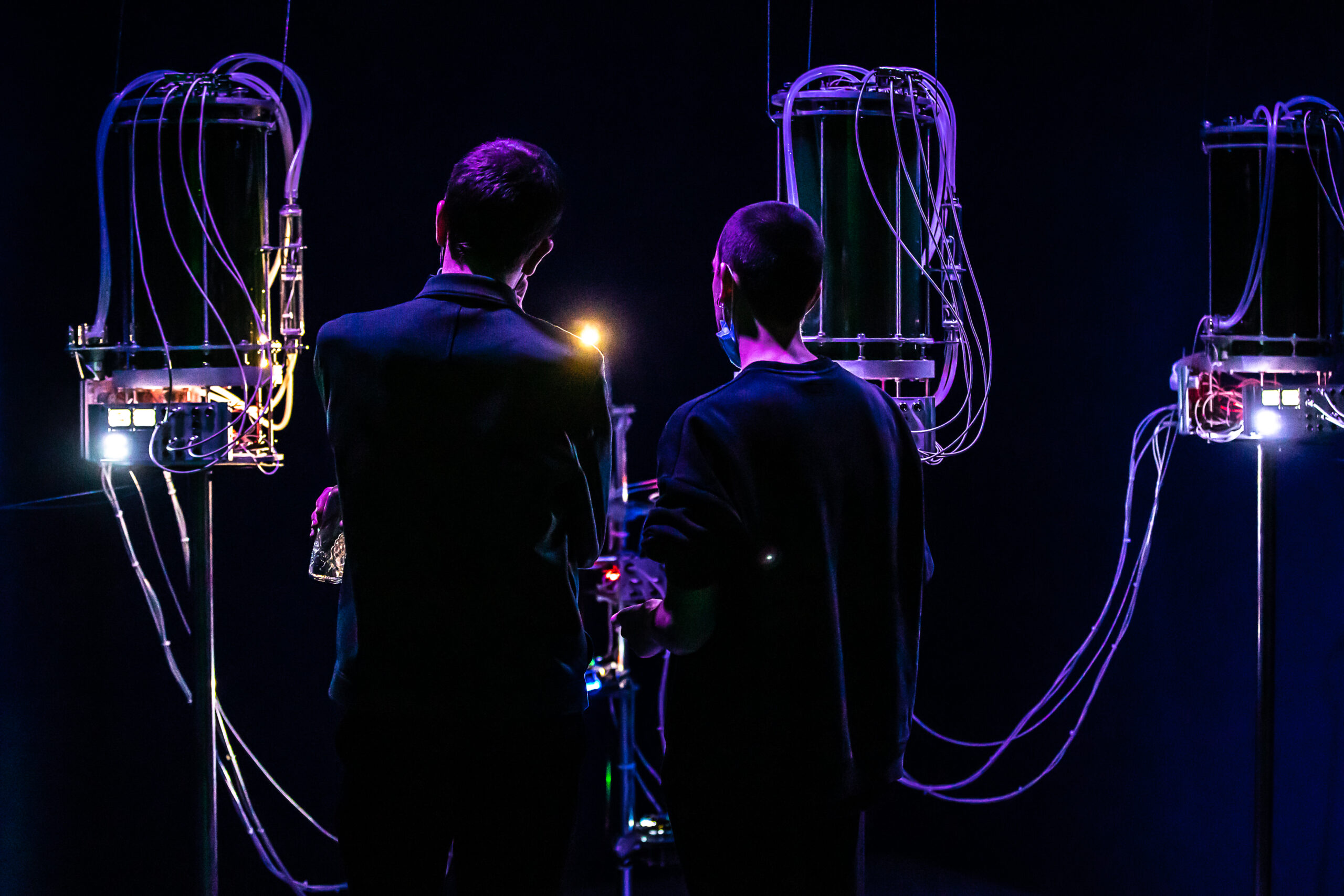 Some Links
Research blog. 
Netherlands Film Festival Interactive program (Dutch). 
* Photo credits: MU – Evolutionaries – Hanneke Wetzer-59. Michael Sedbon – CMD: Experiment in Bio-Algorithmic-Politics 2.0 (2019 – 2020). Evolutionaries: on show 11 December – 7 March 2021 at MU Hybrid Art House. Photography: Hanneke Wetzer. CC BY-NC-ND 2.0.