Events
26 October 2022
15:00 - 17:00
Muntstraat 2A, 3512EV Utrecht (Grote Zaal)
"Media Imaginaries / Imaginary Media / Imaginations of Media" – Frank Kessler and Imar de Vries (UU)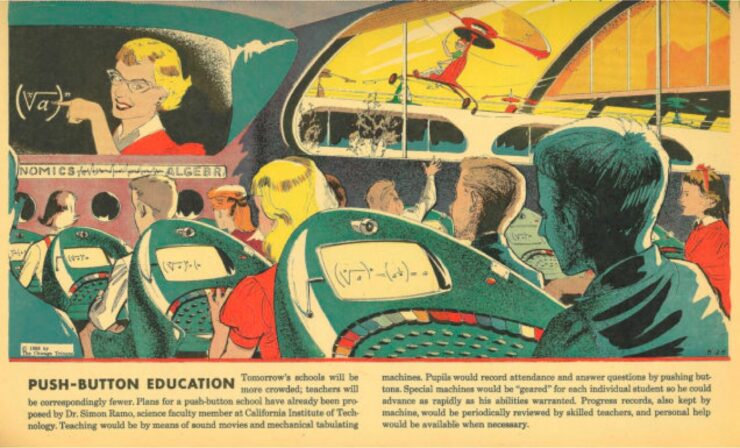 A medium never simply "is". It carries with it not only a history but also a future. Its future is imagined as a perfection of its – sometimes imaginary – potentials, just as there are imaginations of future media, which may also be or remain imaginary media. Moreover, there is always an imaginary of the medium that often is expressed in the way its potentials are described, such as silent cinema as a "universal language", broadcast media creating a "global village", or the internet as "information highway", "cyberspace", and, more recently, a future "metaverse". Such imaginations and imaginaries of this kind are of course intertwined in complex ways. In this session we will try to somewhat disentangle this terminological knot and to discuss the functions and effects of media imaginations, media imaginaries and imaginary media as well as the role they can play for a media archaeological exploration.
Prof. dr. Frank Kessler is professor in media history. His research activities concern mainly the field of early cinema and visual media in the 19th and early 20th century. He acted as project leader for the European project "A Million Pictures: Magic Lantern Slide Heritage as Artefacts in the Common European History of Learning". He is a co-applicant and partner in the Belgian Excellence of Science project "B-Magic: The Magic Lantern and its Cultural Impact as a Visual Mass Medium in Belgium" (2018-2022) and project leader of "Projecting Knowledge: The Magic Lantern as a Tool for Mediated Science Communication in the Netherlands, 1880-1940" (2018-2023). Kessler has been the director of the Institute of Media and Re/presentation and then Head of Department of Media and Culture Studies. From September 2011 until June 2013 he was director of the Research Institute for History and Culture (OGC) and from July 2013 until September 2022 the director of the Research Institute for Cultural Inquiry (ICON).

Dr. Imar de Vries is Assistant Professor at the Department of Media and Culture Studies at the University of Utrecht, where he studies historical and contemporary innovation discourses of wireless technologies, digital media, and virtual and augmented reality. He wrote his graduation thesis on the communicative affordances of virtual 3D worlds and mobile telephony in 2002, and he obtained his PhD in 2008 with a media-archaeological study into communicative desires, which has since been published as Tantalisingly Close at Amsterdam University Press. He is co-applicant and partner in the USO project "UU Open Source Investigations Lab" (2022-2025). De Vries chairs the staff echelon of the Humanities Faculty Board, is a fellow of media lab SETUP, and sits on the supervisory board of media lab Impakt.
Suggested readings (distributed upon registration):
Kluitenberg, Eric. 2011. "On the Archaeology of Imaginary Media". In Media Archaeology. Approaches, Applications, Implications, eds. Erkki Huhtamo and Jussi Parikka (University of California Press), 48-69.
Flichy, Patrice. 2007. The Internet Imaginaire. MIT Press. (Introduction, pp. 1-13)
You can register by sending an email to tim@uu.nl, or via Eventbrite.
This seminar is part of the Transmission in Motion seminar (2022-2023): "Imaginary-Imagination"