Visiting Scholars
Arun Saldanha – Researcher in Transmission in Motion (January-June 2019)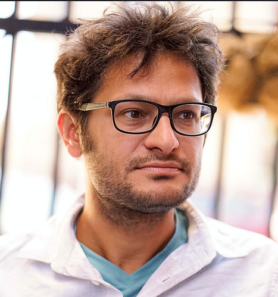 Arun Saldanha is a visiting scholar with TiM (January-June 2019) supported by NWO and the Descartes Centre. As part of his visit, he is going to give a lecture at the TiM Seminar under the title "The Stratification of Cyberspace: from Experience to Waste".
For more information about the event click here.
Arun Saldanha is Associate Professor in the Department of Geography, Environment, and Society at the University of Minnesota and NWO Visiting Professor at Utrecht University's Institute for Cultural Inquiry. He is author of Psychedelic White: Goa Trance and the Viscosity of Race (Minnesota University Press, 2007) and Space After Deleuze (Bloomsbury, 2017), and coeditor with Hoon Song of Sexual Difference Between Psychoanalysis and Vitalism (Routledge, 2013), with Rachel Slocum of Geographies of Race and Food: Fields Bodies Markets (Ashgate, 2013), with Jason Michael Adams of Deleuze and Race (Edinburgh University Press, 2013) and with Hannah Stark of the Deleuze Studies special issue "A New Earth: Deleuze and Guattari in the Anthropocene" (Edinburgh University Press, 2016). He is working on a theoretical book on the materialities of race and the edited collection Prince from Minneapolis.